We bring great performers right to a living room near you.
2013-06-08 - Music & Driveway Party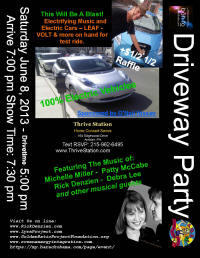 Ride and Drive
Learn more about how to save money
Featuring The Music of:
Michelle Miller
Patty McCabe
Rick Denzien
Debra Lee
and other musical guests!

Now Booking The
- EV - RADIATE -
Summer Tour 2013-14
Want to help reverse global climate change - sponsor a concert in your home and be in a documentary film?

We're Doing It Live
No one has ever done this before - we are taking a 100% Electric Vehicle on a music concert tour and you can be part of it.
Click Here to Learn More.


- sponsored by
www.BoffoStudio.com
www.EPANSAI.com
www.ThriveStation.com


Well being for the individual is well being for the community is well being for the country is well being for the planet.

Find Out How You Can Help
Sustainable Music Production, Distribution and Performance.
Thrive Station
is sustainable music and energy network working together to produce thousands of sustainable local music and community renewable energy projects nationally.
Partnering with companies like Rowan Energy Integration help us understand new and emerging technologies so that we can continue to develop our programs in ways that will benefit the public and the environment.

Join Our Concert List
Tips to Make Your Concert Experience Eco-Friendly
Carpool to the show, or use public transportation! Fan travel accounts for the largest portion of any tour's carbon footprint. You can cut down on your CO2 emissions and save fuel by carpooling, and with online sources like Zimride it's easy to find a ride to the show.

Cut down on plastic bottle waste by using a reusable bottle. At Thrive Station shows, you can fill your water bottle up with free water at Hydration Stations.

Support non-profit organizations like www.GRPF.org

Go local and organic; opt for snacks from Farmer's Market! They're healthier for you and the environment, and support the local economy too.