Music & Driveway Party
Take a Ride or Test Drive an all electric car - EV
(must be a licensed driver with proof of insurance to drive)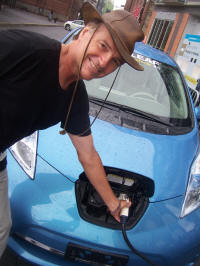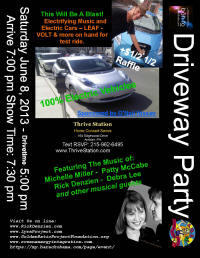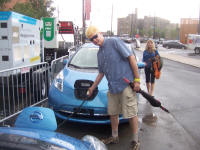 Clean Sustainable Energy
and...
Music!
Featuring :
Michelle Miller
Patty McCabe
Brent Ellison
Rick Denzien
Debra Lee
and other musical guests
and energy expert
Dennis Rowan
www.rowanenergyintegration.com
Saturday - June 8, 2013
Drive Time: 5:00 pm
Music-Concert: 7:00 pm
This is a Free Music Concert
which includes 1/2 & 1/2 Raffle - $20.00 - win the raffle and artists CD's

Bring a dish to pass

We are now powered 100% by wind and solar power from





This Will Be A Blast!

Electrifying Music and Electric Vehicles - Live Music from regional artists and Drive in a the latest EV cars— The 100% Electric LEAF by Nissan LEAF, and a plug in hybrid - Chevy Volt -- and more.
Cut energy costs and learn hands on from the experts.
If you have an EV charge here for free...



Enjoy excellent music with
Michelle Miller
Patty McCabe
Brent Ellison
Rick & Debra Lee Denzien
www.NimbitMusic.com/LyraProject
www.NimbitMusic.com/RickDenzien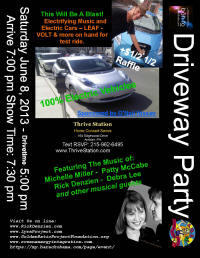 SA/2013-06-08-SustainableEnergy/2013-06-08-HouseConcertDriveWayParty.pdf
Featured Speaker:
Dennis Rowan
www.rowanenergyintegration.com

Learn about the all new EV CAR to HOME electrical backup systems Cut energy costs and learn hands on from the experts. Solar panel experts. Dennis Rowan will be on hand to answer questions and to help you make a plan.
Sustainable music and energy network working together to produce thousands of sustainable local music and community renewable energy projects nationally.
www.ThriveStation.com
RSVP: Yes!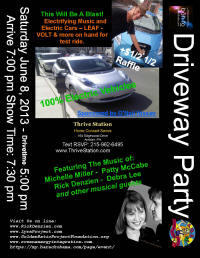 Send this PDF to all your friends
Sponsored by O'Neil Nissan


What's Up:
Debra and Rick (on a full time musician's salary) could not afford to keep spending money on gas.
Their old gas car cost $180 / month in payments plus $100 at the pump each month. The fossil fuel industry does not want you to know that we now have a brand new 100% electric Nissan LEAF. It has no engine, uses no oil or gasoline, it has no tail pipe, and it does not need a state emission's inspection. And this car generates its own energy going down hills or coasting to a stop. In fact, this car can stand in and keep your house powered for days in the event of a power outage.
So far we have gone great distances to gigs, family reunions, everyday shopping trips and more. 2,500 miles so far - not a single drop of gasoline. We even drove all the way to Binghamton, NY to visit Rick's mom in the hospital a 408 mile round trip and did not use any gasoline. The first EV to take such long trip.
We were the first Electric Vehicle to reach Cape May, NJ traveled there for the Singer Songwriter Conference. We charged the car off the pool house at our hotel.
Here is the thing the fossil guys really don't want you to know. We were getting 20 MPG with our old gas car. In rough numbers, with 2,500 miles of gas car driving we would have burned 125 gallons of gasoline at a cost of $412.50 at $3.30 / gallon.
Our LEAF costs us $175 in lease total cost. We charge at home sometimes, and if we charged at home all the time the electric to charge the LEAF would have cost: $93.75. But the truth is that EVERY CHANGE STATION WE WENT TO WAS FREE. That's right, FREE.
And by using the EV instead of the gas car we reduced our CO2 foot print from 12000 lbs of CO2 annually down to 500. (Our solar is not up yet so we still pull some power from PECO)
If you do the math, you'll see that what we are saving in gasoline costs is covering the monthly cost of the LEAF.
Conclusion: If you are paying monthly costs for an old fossil car, you should check this out. We are working with some experts that will help you get this car - even if you think your credit is bad. It is worth a shot, it costs nothing but your time to try and you could be on the positive side of reducing the power of the fossil fuel industry.
What if everyone did this? Well we would have cleaner air to breathe for one thing. Come on out to the Driveway Party and help plan the future.....