Get Updates
Join Our Concert List
TAKE ACTION FOR SOCIAL JUSTICE - TO END POVERTY, ECONOMIC INJUSTICE, and the POISONING OF NATURAL RESOURCES through ENVIRONMENTAL STEWARDSHIP in our everyday lives
TOGETHER
WE ARE
THE SOLUTION
• One Person at a time
• One Household
at a time
• One Community
at a time
NEWS
Debra and Rick test drive and order a 100% Electric Car - Zero Emission. Learn More....
We Run on 100% Wind & Solar Power from Ethical Electric.
Sign Up for yours now and get a $50 signing bonus.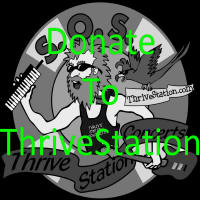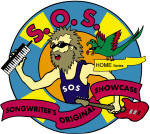 www.SongwritersOriginalShowcase.com
Presents:
Joe Taylor
Lyra Project
Debra Lee & Rick Denzien
more on the artists below

House Concert Series - Live
Saturday - June 19th - 7:30 pm

This gig is by RSVP only - click here to email your RSVP

for full address and directions.
or
reserve your spot - buy your ticket now
Home Concert Ticket
June 19th 7:30pm
Reserve Your Spot Now
Lyra Project
Debra Lee
Rick Denzien

Pay via Pay Pal System
Ticket Held at Door
Full Address and Directions will be emailed to you.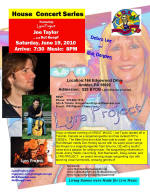 Click and Print Gig Poster

Sponsors:
www.SlotOneEntertainment.com
www.GoldenRatioProjectFoundation.org
www.SongwritersOriginalShowcase.com

Joe Taylor
http://www.joetaylorofficial.com/fr_home.cfm
"Joe Taylor is a refreshing new talent writing some great songs and I'm very excited about his next release. I'm really proud to play his music on my show."

Gene Godfrey - Radio DJ – Classic FM 88.9 WBZC - Philadelphia, PA


"Joe Taylor has a talent for creating wonderfully powerful and compelling melodies like few writers I have met. And on top of that, he has the vocal chops to carry them off. His emotionally charged vocals are undeniable and harken back to the great vocalists of decades past. A great talent yet to be discovered by the masses."
"Thoughtful and soulful."

STEWART BRODIAN
Radio Programmer WDIY - Allentown, PA.


"Though we usually don't book musicians or actors that don't have major representation, we are strongly considering Joe for a Canada A.M. slot as he has a very professional attitude towards performance and a powerful, powerful voice."

JON TAYLOR-
Producer-Canada A.M., Toronto, Canada


"Joe Taylor came all the way from New York to perform at the Songwriter Series. With an amazing and powerful voice that could be heard outside the venue, Taylor sang selections from his latest album, "Try."

CARLA MERRILL (Wednesday 8/2/06)
The Corner, Auburn, AL


The Sweet sound of Joe Taylor's vocals and soulfully strummed chords from his friendly guitar could be heard oozing out of The Kinetic Playground doors Friday night… Joe performed with expressively poignant and heartfelt lyrics from his own music mixed in with covers from Boston's,"More than a Feeling" to Journey's "Lights" as he magnetized this 'Kinetic' energized crowd and brought them down to their knees cheering for more. Lighters raised into the air and arms swaying back and forth...This is what "Life" is called for Joe Taylor! (Track from "Try" cd)

By Jewels (Sunday 4/9/06 11:16 AM)
centerstagechicago.com


"Joe has a great ability to connect with the audience"

CRAIG PALMER- Publicist and on the Board Of Directors for the Brooklyn Opera Company", New York City