Get Updates
Join Our Concert List
TAKE ACTION FOR SOCIAL JUSTICE - TO END POVERTY, ECONOMIC INJUSTICE, and the POISONING OF NATURAL RESOURCES through ENVIRONMENTAL STEWARDSHIP in our everyday lives
TOGETHER
WE ARE
THE SOLUTION
• One Person at a time
• One Household
at a time
• One Community
at a time
NEWS
Debra and Rick test drive and order a 100% Electric Car - Zero Emission. Learn More....
We Run on 100% Wind & Solar Power from Ethical Electric.
Sign Up for yours now and get a $50 signing bonus.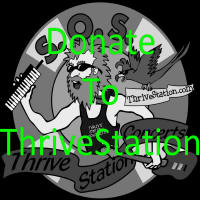 June 18, 2011, Home Concert Series
Arrive 7:30 pm Show Time: 8:00 pm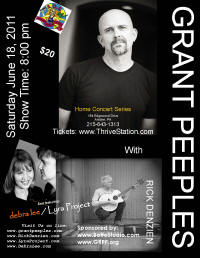 PDF Click and Email / Print Poster


Brief Biography

"This guy's a guitar-slinging poet" Nashville Music City News

There is something that distnguishes Grant from the vast, strumming herd of singer/songwriters. His songs and his performances are strictly bereft of cliché and sentimentality. There is never an "ooh baby" in a Grant Peeples song. There are no white picket fences.

His songs bite and twist, turn on a phrase, dig beneath the surface of appearances. He violates the " No Trespassing" signs, peeks over the backyard fences of the culture. Then he picks up his guitar and lets you know what he's seen–unapologetically–like a poet would anchor the Six O'clock News.

And you know right away….he's not making this stuff up.

Once you listen to Grant's songs, see his performance, the old tobacco barn in that empty field across from your Wal-mart won't look quite the same as it did before.

Grant tours continuously throughout the year. He's performed in biker bars and Unitarian Churches, noted venues such as The Bluebird Café in Nashville, The Cactus Cafe in Austin and Eddie's Attic in Atlanta. He's played established house concert series such as the Moonlight in Birmingham and Shack in the Back in Miami. He has been a feature performer at the Florida Folk Festival, Springfest, Magfest, and the Sarasota Folk Festival, among others. And he's opened show for Fred Eaglesmith, Robert Earl Keen, Gurf Morlix, Jack Williams and Roy Zimmerman
Grant's third album, "Okra and Ecclesiastes", produced by Gurf Morlix was released February 2011.
Audio/Visual Links
Listen to some of Grant's music | View some of Grant's videos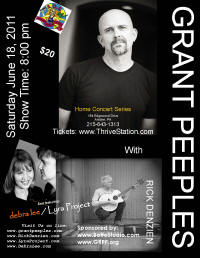 PDF Click and Email / Print Poster
B.Y.O.B - or house brand
reserve your spot - buy your ticket(s) now
Home Concert Ticket
June 18, 2011 7:30pm
Reserve Your Spot Now
Grant Peeples

Pay via Pay Pal System
Ticket Held at Door
Rick Denzien
Debra Lee & Lyra Project

Full Address and Directions will be emailed to you.
a paypal surcharge $3.00 included