Get Updates
Join Our Concert List
TAKE ACTION FOR SOCIAL JUSTICE - TO END POVERTY, ECONOMIC INJUSTICE, and the POISONING OF NATURAL RESOURCES through ENVIRONMENTAL STEWARDSHIP in our everyday lives
TOGETHER
WE ARE
THE SOLUTION
• One Person at a time
• One Household
at a time
• One Community
at a time
NEWS
Debra and Rick test drive and order a 100% Electric Car - Zero Emission. Learn More....
We Run on 100% Wind & Solar Power from Ethical Electric.
Sign Up for yours now and get a $50 signing bonus.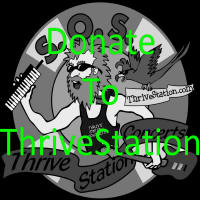 SongwritersOriginalShowcase.com TriveStation.com

Presents:
House Concert Series - Live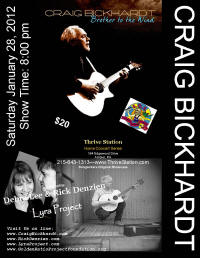 Saturday - January 28, 2012 - Arrive - 7:30 pm
Buy Tickets
Craig Bickhardt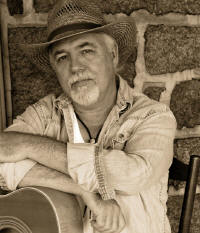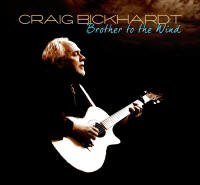 In a world where everything is disposable from ink pens to diapers to electronic devices, Craig Bickhardt is striving to make certain his music stands the test of time.
On his new album, Brother
To The Wind, Bickhardt drew from
a well of influences that includes
such songwriting pioneers as James
Taylor, Leonard Cohen, Joni
Mitchell and Gordon Lightfoot.
"Music used to change
people," Bickhardt notes. "Records
used to be made for careful listeners
who read the lyrics and talked about
the songs, interpreted their meanings.
That's the kind of music I
relate to." Read More
with
Debra Lee & Rick Denzien of Lyra Project -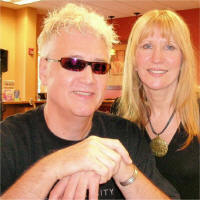 Thrive Station - House Concert Series - Live
Plus the "patented"
The After Show Guitar & Bongo Jam

Saturday - January 28, 2012 - Arrive - 7:30 pm
B.Y.O.B - or house brand
Make a donation to the show now. The show must go on - enjoy the videos and consider giving a gift! It is appreciated.
Home Concert Tickets
January 28, 2012 Show Time: 8:00 pm
Reserve Your Spot Now
Craig Bickhardt

Pay via Pay Pal System
Your Ticket is Your PayPal Receipt, but we will also have you on our list!
Debra Lee & Rick Denzien
of Lyra Project
Full Address and Directions will be emailed to you.
a paypal surcharge is included


All Major Cards Accepted - Even without a PayPal Account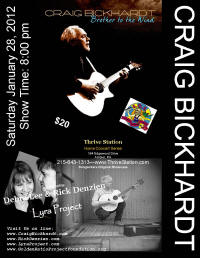 Click and Print PDF Gig Poster

Support Our Sponsors:
www.BoffoStudio.com
www.SlotOneEntertainment.com
www.GoldenRatioProjectFoundation.org
www.SongwritersOriginalShowcase.com