Get Updates
Join Our Concert List
TAKE ACTION FOR SOCIAL JUSTICE - TO END POVERTY, ECONOMIC INJUSTICE, and the POISONING OF NATURAL RESOURCES through ENVIRONMENTAL STEWARDSHIP in our everyday lives
TOGETHER
WE ARE
THE SOLUTION
• One Person at a time
• One Household
at a time
• One Community
at a time
NEWS
Debra and Rick test drive and order a 100% Electric Car - Zero Emission. Learn More....
We Run on 100% Wind & Solar Power from Ethical Electric.
Sign Up for yours now and get a $50 signing bonus.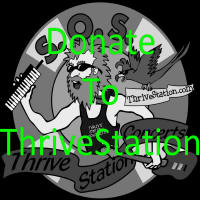 SongwritersOriginalShowcase.com ThriveStation.com
Presents:
House Concert Series - Live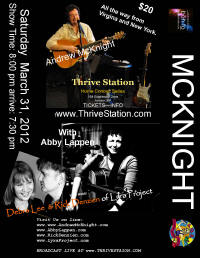 Saturday - March 31, 2012 - Arrive - 7:30 pm Show Time 8:00 pm
Buy Tickets
Featuring Andrew McKnight
Since permanently leaving his corporate environmental engineering career in 1996, the award-winning folk and Americana artist's musical journey has traced nearly half a million miles of blue highways nationwide, and earned him a wealth of critical acclaim and enthusiastic fans for his captivating performances and five indie CDs. Andrew delivers an engaging and energetic show of award-winning songs, rich high tenor vocals and fine flatpicking, wrapped in amusing anecdotes and compelling stories.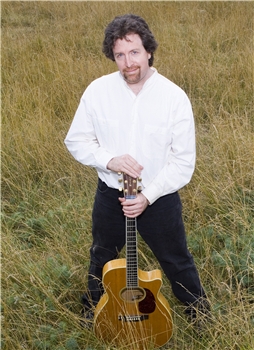 While he primarily performs solo, Andrew also does festivals and performing arts series and smaller theatres around the east along with founding Nitty Gritty Dirt Band member Les Thompson in their acoustic/electric quartet Beyond Borders. Joined by fellow singer/songwriters Stephanie Thompson and Lisa Taylor, the band made their collective debut at the Kennedy Center in March 2008. Their eclectic arrangements of Andrew's songs often fuse old-time and roots rock instruments with 3 and 4-part vocal harmonies. Andrew and Les co-wrote "Made by Hand" for the Still Moving Mountains CD (featured on CNN and CMT), and the song is in the new award-winning documentary "Low Coal" about mountaintop removal.



Andrew and Beyond Borders are part of the prestigious Virginia Commission for the Arts Touring Artist program alongside the state's best performing artists like Robin & Linda Williams (of Prairie Home Companion fame), guitar virtuoso Wayne Henderson and the Virginia Symphony. The band were honored with juried showcase selections at the 2010 Folk Alliance International conference as well as the 2011 Southeast (SERFA) and 2009 Northeast (NERFA) Regional Folk Alliance conferences.

More......

Opening The Evening:
Abby Lappen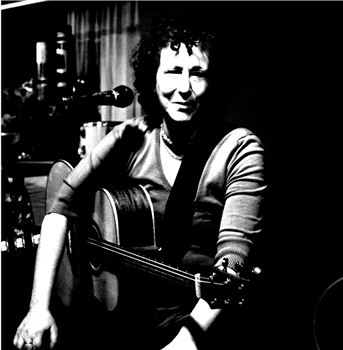 Abby Lappen is a singer-songwriter in the acoustic folk tradition, with strong jazz, rock and blues influences. Whether singing her own songs in concert or popular covers personalized for any gathering, her sweet, smoky voice lends a vibe that is both sexy and soothing.

Abby's own witty, soulful work is quickly gaining devotees. With influences ranging from the sultriest of blues to activist folk, to rock both bouncy and hard-hitting, as well as her unique instrumentation including acoustic and steel guitar and soul-twanging use of harmony, Abby's music is a must for many fans.

She has played in many venues across the Northeast, as well as various fairs and festivals.

Abby works with several populations each week
leading song and movement groups as a therapeutic tool. Her growing repertoire evolves with each group's personal requests exploring collective memory. More....bio Abby.htm
with
Debra Lee & Rick Denzien of Lyra Project -


Thrive Station - House Concert Series - Live
Plus the "patented"
The After Show Guitar & Bongo Jam

Saturday - March 31, 2012 - Arrive - 7:30 pm
B.Y.O.B - or house brand
reserve your spot - buy your ticket(s) now
Home Concert Tickets
March 31, 2012 Show Time: 8:00 pm
Reserve Your Spot Now

Andrew McKnight
with
Abby Lappen

Pay via Pay Pal System
Your Ticket is Your PayPal Receipt, but we will also have you on our list!